Image from Coimbra
Here are three graphs from the https://americanpilgrims.org/statistics/ website.
My point here is you can choose how alone you want to feel (assuming you are a women and wish to walk alone, but also can pertain to anyone wanting to walk alone) . The first graph shows that men and women receive the Compostela more or less equally. When you are interviewed at the Pilgrim's office in Santiago you have to go up to the interviewer by yourself, not as a group nor as a couple. The numbers in the first graph are equal for men and women, but do not reflect if a women walked alone, that might be impossible to tell. Most notable is the steep climb upwards year by year by both men and women completing Caminos.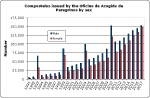 The graph below, and I will just use year 2017 as an example, reports that 84,052 Compostelas were given to ages 0 – 29, 164,610 were awarded to people aged 30 – 60, and 52,344 to those over the age of 60 for a total of 301,006. That, by any means is an incredible amount of commitment at any age and gender. You have to recall, one can join the Camino, any of the numerous Caminos, such as French, Norte, Portuguese, Igles, Primitivo, etc 100 K out to qualify for the Compestela. The Camino can be interpreted as YOU like. Fly into Pamplona and watch the bulls run in July and then walk from there, or take a bus from there to Sarria, 100 K out, and walk in. Or skip the Compestela and just enjoy a taste of the Camino, walking a segment to see if you like it.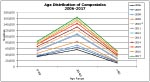 Finally, by starting in May, June, or July, you have the biggest concentration of people on the Camino, you will certainly be surrounded by many people on the Camino, and certainly have many people at Albergues, in town, or just around to speak with in the evenings.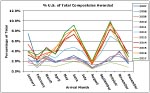 In my opinion, unless you firmly want a highly comfortable and cushy evening bed (Booking.com makes that easy btw) I would highly encourage you to try an Albergue, private or municipal and see what it feels like to be a Pilgrim surrounded by other Pilgrims. It is a very intense and sometimes moving experience. There are tour groups really picking up on interest in the Camino, with meals provided, luggage transfers, and many starred accommodations. They seem outlandishly expensive to me. But, they may appeal to some who just want things done for them so they can walk and not worry.
Today, I mentioned to a woman I walked a Camino, she was not familiar. She predictably asked me if I went alone, and I said yes, and she asked if I went in the woods and towns and everywhere alone. I told her I had some company along the way but that yes, I went alone for large parts. She seemed frightened by the thought, so my mission here is still needed I think.
"I am looking for someone to share in an adventure that I am arranging, and it's very difficult to find anyone.'
I should think so — in these parts! We are plain quiet folk and have no use for adventures. Nasty disturbing uncomfortable things! Make you late for dinner!"
― J.R.R. Tolkien, The Hobbit or There and Back Again
Here are a few blogs from adventurous women bloggers you might like to look over.
The first blog I recommend is by Kat, Following the Arrows is really good, I read her a year or more before I went on my Camino and she is straightforward and a great writer, I think you would feel inspired. I am reading her 88 Temple Pilgrimage she did in Japan now and it is so good and the walk is so long, 1200K. Since I have done a Camino I can really resonate with her, especially her wishes that maybe she could accidently lose her pack somewhere and not having to carry it, or that the days are too long and here is good enough for tonight, and that she walks alone, but she also walks with others she meets which is part of the adventure! She is also an uber walker, and gets the K's done for sure.
Magwood's blog is also really good, comprehensive, and she is a character and closer to my age which inspired me to walk.  I also read her more than a year before I set out. You can read about her many very long walks here, and you see a bit about what her magical little town is like in her Andalucian mountain village. Her blog is called Trepidatious Traveler and I think you will enjoy the way she talks about her experiences, sometimes solo, and sometimes with a friendly pack of her Camino friends. I like how she often walks solo, meets others, and then maybe says goodbye and moves on from them. She is a great role model for middle aged women and I think gives USA eyes a view from abroad that one can compare and contrast from my blog even. 🙂
And, I have recently run across these two blogs and they are looking really good, I will place them here for you to check out if you are interested.
http://sometimesshetravels.com/blog/category/about-me/
and her blogging friend – not in English, but really well done blog with great pictures.
The Stingy Nomads walk as a couple around the world and their website is very professional and has lots of suggestions and information.
This partner duo also post exacting images that are really helpful for more visual learners – I can highly recommend them and Ellie is reflective and inspirational I think for all, but also for women who walk with men – you can read and see for yourself!
https://www.pilgrimagetraveler.com/
I also suggest these tips for any solo walkers:
Register with the state department, so the embassies know you are out there and have your emergency contact information.
2. Be sure that your USA passport has enough time on it, you should have a 90 or more days to spare before your passport expires before you leave the country. They can and will turn you back on the other side of the Atlantic if you do not have 90 full days remaining on your passport.
3. I suggest giving yourself two or three nights before you set out to get a little acclimated. I spent one night Lisbon and two nights Tomar and I think that was well used and I felt relaxed and happy to set out on my own.
4. Do not google about deaths on the Camino or violence against people unless you can do that and still feel ok. Very few violent episodes are recorded each year on the Camino. Keep it balanced if you google, like, do you know how many people a year die at USA National Parks each year (about 350, one per day). Most people in the USA have little awareness how dangerous it is to live in the United States compared to the Camino countries. You can use this website here, you will see that Portugal is the 4th (Spain the 30th) most peaceful country on the Planet – do you have any idea where the USA is on the list? You might find this interesting, and it is helpful to shed light on why so many people are fearful of the Camino, based on what we know here as our vector.
https://en.wikipedia.org/wiki/Global_Peace_Index
Or, check out world homicide rates, I think this list helps you to think about "tone" of a place as well as actual data based on statistics. The page reminds us that with good ER hospitals the number of homicides may not reflect attempts. Cheerful thought. But again Portugal in particular has just about lost all interest in killing each other. Spain also has very low numbers – and if there is a hike in Iceland you like by all means go – they kill no body, basically ever.
https://en.m.wikipedia.org/wiki/List_of_countries_by_intentional_homicide_rate
I will sum it up here, people might steal your stuff in an albergue, I did not experience that, but I was told by someone personally that they had 300.00 Euro stolen one Camino at an albergue. She told me she just figured a Pilgrim just really needed it, but she carries low cash now. I would guess this is not very common, but it has happened. You are around many people, so only keep 100 or so on you and spend it down to your last 20 or so before you get more. First, call and alert your bank you will be out of the country, and they will not freeze you out when you try to use your own card! The ATM's work just like home, put in card, put in pin, agree to exchange rate they are giving you, take euros out. I put my money bag inside my sleeping bag with me if I was super sleepy and had a lot of cash. Just buy 100 Euros at the airport before you go, the exchange rate will be a bit high, but it feels good to have that cash on arrival. An American solo woman lost her life a few years ago on the Frances, a man changed the arrows to go to his house and he confessed and was sentenced. Many death stories are about men dying right after the Camino, even right in Santiago or on the way to the airport after. It is a rigorous challenge – so, my advice to everyone is to take it easy, find your pace and protect it firmly.
You have to, in my mind use common sense, how many people are on the camino and how many people have that level of violence. Use the "wise pilgrim" app if you like, that will show you if you are actually on the Camino if things feel weird to you – keep yourself safe and smart as you can be.
5. If you start at 630 AM you will be ahead of the EU crowd that usually starts out around 8 AM. So, if you are traveling at a crowded time, summer, then you just wait for people before you enter the woods etc, they will come along and you can join them for that segment until you feel ready to be by yourself again. Pilgrims help pilgrims, that is the code. Or, call a taxi and move down the Camino more.
6. Learn Krav Maga
https://en.wikipedia.org/wiki/Krav_Maga
I hope all of this has you smiling and feeling more confident about walking a camino with or without friends – but, you WILL make friends if you want —- I promise.